It might be day 1 of VMWorld 2014 but there has been a lot going on over the past 2.
I arrived on Sunday afternoon and caught up with people after checking in. Then it was off to the vRockstar event.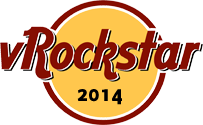 The EMC Elect and The ViPR community were one of the sponsors of the event this year. It was bigger and better than ever and gave us an opportunity to mingle with the social rockstars.
I was given a short spot to thank the attendees and I used it to promote EMC Elect nominations. I alos talked a little about how support Communities are changing / evolving at EMC. I did my best to be the best vRockstar I could be, simply by talking to many people and having great conversations. And I rocked the word out to nominate (quite literally).
It was a great event and there are plenty of photos on the social stream under #vRockstar. Many thanks to Patrick Rednap, James Bowling, Hans De Leenher & Marco Broeken for putting it together. And a big thanks to Rachel Foster for marshaling EMC as a sponsor to this event in a short time frame.
Yesterday was partner day. And it was the day Dennis arrived, so we got together to catch up and do some plotting and scheming for the EMC Elect program.:) Good planning, lots of exciting things coming up. More will be revealed in due course.
As it was a less frantic day, it gave me the opportunity to catch up with old friends and make some new ones. I have mentioned this before, and do so again now by saying that these conferences are an invaluable experience for any attendee and the company or business that paid to send them.. Sometimes its hard for businesses, to grasp this and really see the value. And its especially harder in these difficult economic times to justify the spend. And getting to attend a conference in Q4, well thats a hard sell. Its hard to break what I call consensus thinking.    Now I don't mean group think, but I do mean following traditional paths to things.  Its tough for people and companies to stop and take a skeptical eye on whats happening. But it does add up on anyone, be it a company, or person, if they continue in a consensus model. I will make a promise to expand on my thoughts on that in another blog post.
In any event the conversations are going very well. And what gives my heart a lift is the depth of those conversations. Be it the encouragement of outside the box ideation from Patrick Rednapp, or James Bowling, or the sage advice and calming but motivating influence of Amy Lewis or Josh Atwell, its all amazing. And there are so many other people too numerous to mention. People who are employees if companies that partner EMC, compete with EMC etc, thats irrelevant. Its the real people behind those roles that speak and converse. And this community of peers in my experience has such a spirit of generosity. They listen, share, validate, and set you straight. Ad believe me, the companies that these people work for, get a tremendous benefit out of it. Thats my perspective at least.
In any event, there is no time to stop. Plenty of sessions today including some hosted by #EMCElect memebers.
More on that in due course.