Well its almost upon us. VMWorld Europe 2014, in Barcelona from October 14 -16. I will be attending and its my first EMEA based VMWorld conference. Which is nice, no trans-atlantic long haul this time.
I'll be there representing the EMC Elect and covering some technical things going down there too. There is a lot of EMC related events happening during the show.
If you are there in person do drop by The EMC demo stand. And for a full list of the EMC sessions at VMWorld Europe drop by our Everything VMWare at EMC community. There will be lots of exciting things happening, and I intend to be posting plenty of content, here on my blog and on Twitter via @DathBrun and #EMCElect.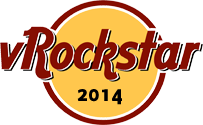 I am looking forward to it and will be one of the speakers at the VRockstar 2014 meet up / party. Thats already sold out! It should be an exciting party and relax, I only speak for 2 minutes 🙂
And EMC & Intel are also hosting a great Customer Appreciation Event at a famous bull Ring. If you are attending the conference in person pick up your EMC party credential at the EMC stand D306 from 11:00-19:30 on Tuesday 14 October.
See you in Barcelona!